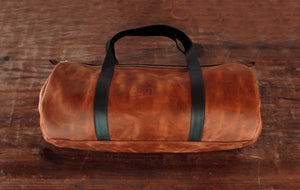 simplegoodshop.com
The Duffle
Sale price Price $239.00 Regular price $0.00
Made for a quick get away, this small duffle bag is perfect for the weekend, or just going to the gym, made from premium leather, it features a small pocket in the inside for keys, cards, etc. It has a sturdy metal Zipper and leather straps, made to last, it will soon be your go-to bag.
The inspiration for this bag, was my father's old gym bag, I used it for a while but it's all torn now, it was made of some kind of fabric, and it still held up for at least 30 years, so this one made from leather will last a lot longer so I can pass it on later.
As all SIMPLE leather goods, it's designed and made by hand in Guatemala
• Big storage compartment
• Small inside pocket
• Leather body and straps
• Handmade
Dimensions: 20" x 9" x 9"