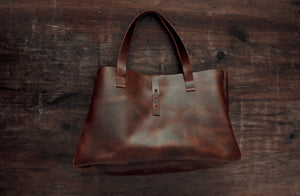 SIMPLE Leather Goods
The Tote
Sale price Price $199.00 Regular price
All day, every day Tote, made to carry everything you need, and still give you quick access to important things, without going into all that stuff, it also features snaps on the sides to make it slimmer or wider, depending on your needs.
My wife wanted a simple tote, for everyday stuff, and so The Tote was created.
As all SIMPLE leather goods, it's designed and made by hand in Guatemala
• Big storage compartment
• Small inside pocket with zipper
• Leather body and straps
• Handmade
Dimensions: 18" x 11 1/2" x 6"